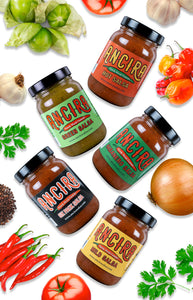 How to Pick the Right Ancira Salsa for Any Occasion
Blog Post By: Ancira Salsa Collaborator Celeste Lili
Whether you are a salsa connoisseur or new to adding a little bit of spice to your life, there's an Ancira Salsa for everyone. With 5 different heat levels and flavors, it can be a bit challenging to pick a new one to try out, even if you have already enjoyed one of our salsas before. Each one has an authentic homemade taste that you just can't get enough of. 
So how do you know which flavor you should try out? And what else can you pair your salsa with besides fresh tortilla chips?


There's actually so many different recipes you can use each salsa for beyond the standard chips and guac combo. Each Nearly World Famous salsa has a great spice and authentic feel that can't be replicated.
Mild Salsa
Our Mild salsa is perfect for anyone who is sensitive to spice, but still wants a little kick. You'll taste fresh tomatoes, garlic, and a hint of jalapeño peppers. And the consistency is perfect, not too chunky and not too liquidy like other mild salsas.
Heat Index Rating: 1/5 flames
Our fresh ingredients include:
Tomatoes

Yellow Onion

Jalapeño peppers

Garlic

Serrano peppers

Green onion
What is Mild Salsa Used For?
Our Nearly World Famous Mild salsa is just the right thing to add some flavor to breakfast. We believe that it pairs best with chilaquiles, eggs, breakfast tacos, and breakfast burritos. One of our verified salsa lovers, Jessica, even goes as far to mention that "I feel empty if I don't have this salsa on hand during breakfast." 
Green Salsa
If you've never tried this great tasting classic, it's best to grab a jar or two now. Green salsa or salsa verde is made from tomatillos, a fruit native to Mexico. They look similar to a green tomato, but have a husk and different flavor altogether. Tomatillos are more tart and have a slight sweet flavor that make it a great pairing with jalapeño peppers. 
Heat Index Rating: 2/5 flames
Ingredients: 
Tomatillos

Yellow Onion

Jalapeño peppers

Garlic

Serrano peppers

Green onion
What is Green Salsa Used For?
The Green salsa's mild flavor is great with any meal. The sweet and spicy combination works great with tortilla chips, enchiladas, rice or any other food. The little notes of heat add a subtle kick that keeps your taste buds burning for more!
Lots of our customers frequently use their Ancira Green Salsa for breakfast foods, similar to our mild salsa. However, you can also add it to chicken, refried beans, quesadillas, etc. It also tastes great with our pozole verde recipe. 
Green salsa is a sauce staple that's so versatile, it could be added to pretty much anything. 
Hot Salsa
If you are looking to kick the heat up a notch, our hot salsa is just the one for you. Typically, hot salsas are known for being either too mild or way too spicy. The Ancira Hot Salsa is neither of those. With the perfect amount of spice and flavor, Ancira Salsa is the happy medium for all your salsa needs.
Heat Index Rating: 3/5 flames
Ingredients:
Tomato

Yellow onion

Jalapeño peppers

Garlic

Serrano peppers

Cilantro

Green onion
What is Hot Salsa Used For?
Our Ancira hot salsa is the perfect match for huevos rancheros. Or if you aren't a big fan of eggs, there are tons of lunch/dinner options you can use the hot salsa for. It goes well with authentic nachos, queso fundido, or even shredded beef. 
Hot salsa is great with any meal you would like to add a little spice to. 
SixPack Salsa
Our SixPack salsa is sneaky to say the least. When you first open the jar, you'll smell hints of chipotle and garlic, nothing too strong. And when you take your first bites, it doesn't taste too spicy, but then the heat creeps up on you and packs a punch. 
However, the spice level doesn't overpower the other ingredients. You'll still get a great taste of garlic and onions. This is the ultimate salsa for anyone who wants to bring on the heat and the flavor.
Heat Index Rating: 4/5 flames 
Ingredients:
Tomatoes

Yellow onion

Jalapeño peppers

Chipotle peppers

Garlic

Serrano peppers

Green onion

Habanero peppers

Dried peppers
What is SixPack Salsa Used For?
SixPack Salsa adds a jolt of heat no matter what food it is added to. You can spice up your arroz con pollo, omelettes, or stuffed bell peppers. Some customers even add it to their Chipotle orders to give it that necessary kick. 
Habanero Salsa
If you just can't get enough heat with regular salsas, our Habanero salsa is the right choice for you. The habanero pepper was once considered the hottest pepper in the world until new hybrids like the Carolina Reaper were created. That being said, this salsa can be too hot for those with sensitive palates. 
For those who can stand up to the heat, you won't miss out on tasting our other fresh ingredients and flavors. Many customers have said that they still get a great note of garlic when eating this salsa.
Heat Index Rating: 5/5 flames
Ingredients:
Tomatoes

Water

Fresh and dried Habanero peppers

Yellow onions

Garlic 

Cilantro

Green onions
What is Habanero Salsa Used For?
This is the perfect salsa to add to savory dishes that need a bang of spice. Scoop some of it on top of carne asada fries, chicken tostadas, sopres, or even inside a torta. Whatever you decide to prepare, you can't go wrong with the blazing heat of our Habanero salsa.
Grab your Ancira Salsas Today!
Ready to grab some jars of our Nearly World Famous salsas? You can text ANCIRASALSA to 512-548-4301 to be the first to know of exclusive discounts! 
---