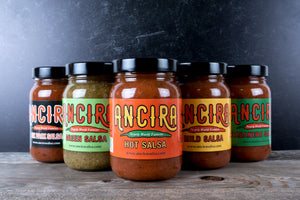 Ancira Salsa Expands Market Growth (Nearly world famous salsa, always delicious)
Ancira Salsa Expands Market Growth
(Nearly world famous salsa, always delicious)

Taylor, TX: Ancira Salsa, the "nearly world famous" salsa from Texas today announced retail expansion, supplying 100+ new markets nationwide, solidifying its place as an emerging player in the specialty foods industry. With a growing reputation for bold flavor,  Salsa is rapidly living up to its "Nearly World Famous" tagline, starting out at local farmers markets and festivals to now spreading along the northeast US, to Oklahoma, New Mexico, and even Hawaii. Made with only the freshest ingredients, Ancira Salsa offers a unique taste and branding that sets it apart from the rest. The continued growth across eight states is a testament to the brand's commitment to bringing its customers the best possible products and experience like no other. This milestone is a major move for Ancira Salsa on its mission to become a national brand and competitive purveyor of salsa. "We are thrilled to be expanding our reach and introducing Ancira Salsa to even more customers," says Jesse Ancira III, Chief Marketing Officer at Ancira Salsa. "Our salsas are made with our grandparents' love and passion, and we can't wait to bring a taste of Texas to your table. We believe that everyone deserves access to our unique product offerings, and we are proud to be making that happen."

This news comes in the wake of many recent initiatives and accomplishments of the company, including:
KeHE Food Distributor partnership
UNFI Conventional Food Distributor partnership
Albertsons, Walmart.com, Central Market, United Supermarkets, Pruett's & Foodland placement
To learn more about these milestones, click here www.ancirasalsa.com.

About Ancira Salsa:
Ancira Salsa products are our family recipe with showcases the zeal of Hispanic Texas culture, along with the appeal of shop-local & artisan food craft. Get unique, high-quality salsas by opening a wholesale account. Elevate your offerings with Ancira Salsa—nearly world famous, always delicious! 
---